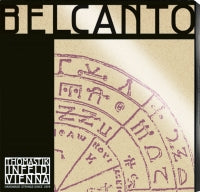 Bel Canto are one of the best-sounding solo-tuning double bass strings on the market today. Rich-sounding, with warmth and dimension, and very manageable string tension. Highly recommended!
Select this product for Solo tuning set (F#BEA), for regular 4-string bass - please check our other options if you wish to order Orchestra tuning or an Extended set.
Not sure which strings to purchase? Check out our comprehensive guide! 
https://www.quantumbasscenter.com/about_upright_double_bass_strings.html