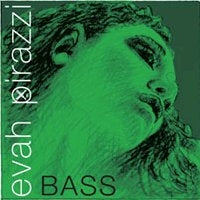 The Evah Pirazzi string is possibly the best on the market for 'crossover' players who play both classical and jazz. Lending ample volume to the bass without adding excess tension, Evah Pirazzi strings give a flexible feel to the left hand, and an elegant sound. We also find they are popular with part-time players and those new to upright bass, as they are are easy on the left hand, and they can do wonders for basses that tend to sound closed or quiet. Interestingly, they also do well on very large basses, such as 5-string instruments and 7/8 size. Manufactured in Medium (Orchestra) weight and Light (Weich). Choose the set you wish from the options.

NEWS: we're now adding Extended Sets and GDA-only sets to our most popular bass strings! No need to order individual strings when you want an extended set - just choose Extended set from the options! How fast will we expand the selection? It's up to you - let us know what you are looking for! We do sell individual strings and receive replacement stock every few days, so if it's not shown, please don't hesitate to call us at 713-909-0994 or email quantumbasscenter@gmail.com.
Not sure which strings to purchase? Check out our comprehensive guide! 
https://www.quantumbasscenter.com/about_upright_double_bass_strings.html