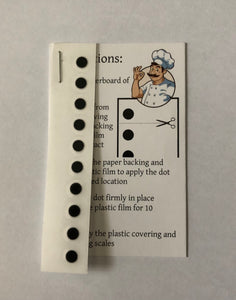 High quality, uniform 4.5mm diameter, adhesive fingerboard markers - another innovative product from the makers of Rosin Saver. Black in color. Includes card of installation instructions.
From the manufacturer's web site:
One sheet of ten fingerboard dots
Robust PVC material that lasts ages and adheres firmly using a 3M backing
Easy to remove if needed without leaving any residue
The domed, semi-gloss finish is ideal for the player in all lighting conditions, but nearly invisible to the audience
A note about shipping this item: it can certainly ship in a regular First Class envelope (not trackable) for under $2; we have sadly been compelled to default to First Class Package shipping as our least-expensive option in order to have proof of delivery. We can ship it First Class and it absolutely will arrive. If you would like to save on shipping and are ordering this item alone, just send us an email stating that you also trust it will arrive and don't need to pay the surcharge for tracking, and we'll refund the difference in shipping when we ship your item.